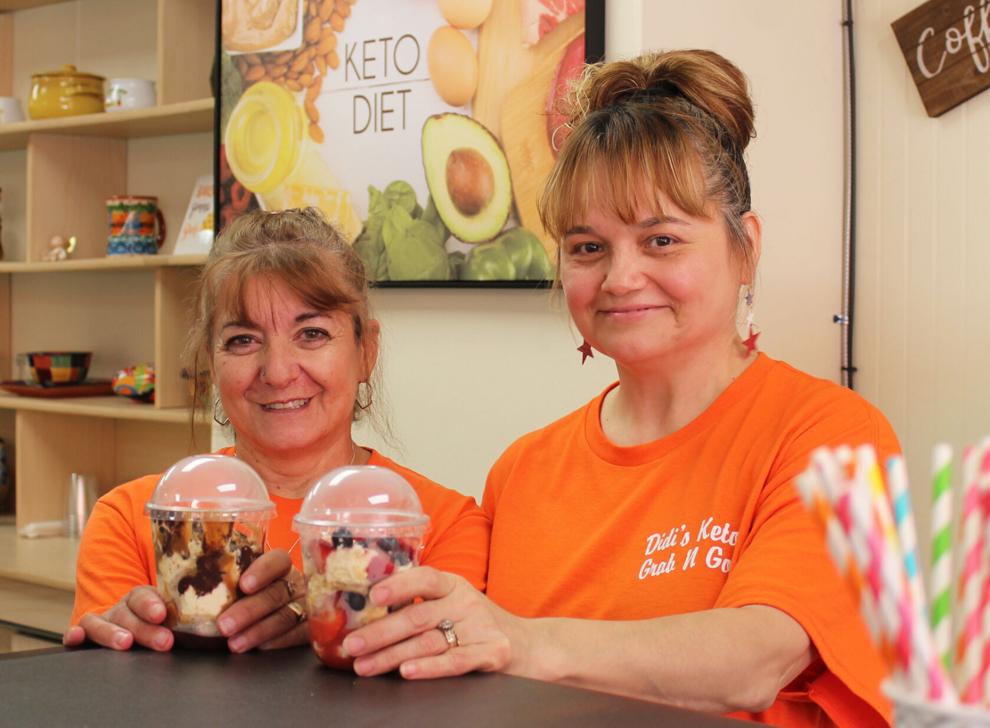 Whether you're a fan of the ketogenic diet, or just like good food, Didi's Keto, Grab & Go could become a favorite stop in downtown Beaver Dam.
The shop at 103 E. Maple Ave., Suite 102, (the Hotel Rogers west entry) opened June 4. It is now serving a growing public under the orange awning on North Spring Street.
The café has been thoroughly remodeled, a kitchen has been installed and limited seating has been set up for those wishing to eat on-site. The office and pantry, once dressing rooms, have been repurposed.
Food is made fresh on-site.
According to Healthline.com, the ketogenic diet is a very low carb, high fat diet that shares many similarities with the Atkins and similar diets. It involves drastically reducing carbohydrate intake and replacing it with fat. This reduction in carbs puts a body into a metabolic state called ketosis.
"When this happens, your body becomes incredibly efficient at burning fat for energy," the website states. "It turns fat into ketones in the liver, which can supply energy for the brain. Ketogenic diets can cause significant reductions in blood sugar and insulin levels. This … has some health benefits including shifting the body's metabolism away from carbs and toward fat and ketones."
Co-workers Eloisa (owner Didi) Rodriguez and Dominique Opperman noticed the shortage of keto options and decided to pursue their own shop more than a year ago. With COVID-19 on the rampage and all of the supply chain challenges faced by businesses and remodeling projects worldwide, it has been a long wait.
"It was a lot of work getting ready to open," said Opperman.
"When I was working at a local retail store a couple of us got on the keto diet and it was hard to find anywhere to eat keto food," Rodriguez said. "As a Hispanic woman I learned that some of the basic foods that we eat we can find anywhere, but you have to give up regular breads, pasta, rice, beans. Some of those things you can't eat, and of course I love Mexican food, but I had to give up a lot of my favorites to do it right."
She added, "I love to cook and I love to bake, so learning about keto cooking was a real adventure for me. I'm not an expert, but I'm working on learning more about it every day."
Even salads are a challenge, with many dressings including sugar. Sugar must be avoided in favor of low calorie sweeteners in all things, including baked items which are made with almond and other nut flours.
Carbohydrates are usually limited, but not entirely eliminated.
"You generally want to go on the lowest carbs if you want to actually see results quickly," said Rodriguez. "Once you get to your target weight then you can increase your carb intake without eliminating all of them."
Daily specials are offered. The menu is ever-changing, offering treats geared for the season. Cold foods will be the focus for summer, while fall and winter will offer soups, hot wraps and more.
Baked treats include muffins (two for $7), cheesecake chunks and other parfaits at $5.50, and chia pudding with berries at $5.
"They're sweet in a healthy way," said Opperman.
Drinks include cucumber lemon water ($2.50 for 16 ounces), slushes ($6.50 for 16 ounces) or shakes at $8.50 each.
Rodriguez does not prescribe to customers, although she can recommend menu choices to suit customer tastes and goals.
"A lot of people are already familiar with the concept, but we can help explain it to those who are not familiar with it," said Rodriguez. "I am not a doctor. That you kind of have to research for yourself."
Not that customers can't just order it and enjoy it. There is nothing dangerous in trying a low-carb or low sugar option – and tasty – treat.
"I'm just here to offer tasty food choices," said Rodriguez. "Diabetics, people with celiac disease and those with high blood pressure or high cholesterol always need to follow their physician's advice."
Public response has been enthusiastic.
"We've gotten some good reactions," said Rodriguez. "A lot of people are really happy we're here. We've heard good things from the people who come here."