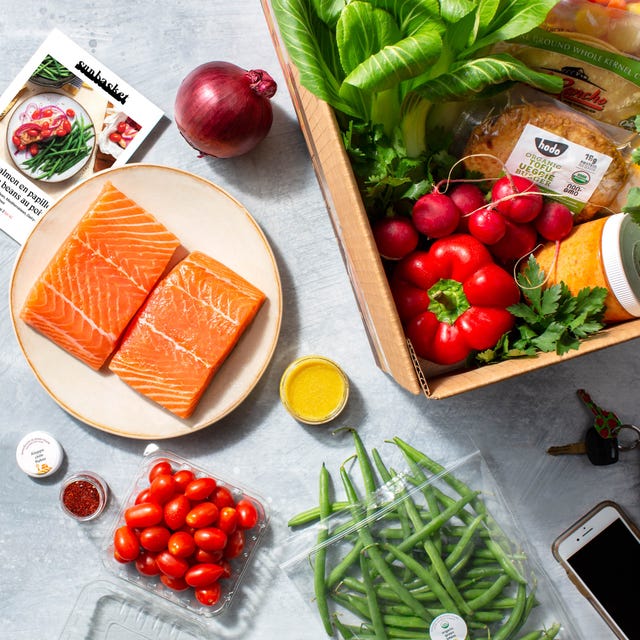 Sunbasket
Despite its name, the Paleo diet is as far away from the Flinstones as one can get. The Paleo diet grew out of a movement that was trying to capture diets associated with a less complicated life. Just as caveman had no access to dairy, legumes or grains, you won't find that on on this diet either. Paleo diets focus on whole foods such as fruits, vegetables, healthy fats, lean animal proteins, nuts and seeds. Out of this sentiment has come quite sophisticated offerings that have remained faithful to the original goal of less complicated, more authentic and simpler meals — all without sacrificing taste and variety.
"The Paleo diet has a few great things going for it, like emphasizing produce, lean protein, nuts and seeds. It also limits foods high in refined sugars, which we know most Americans are consuming way too much of," says Stefani Sassos, MS, RDN, CDN, Deputy Nutrition Director for the Good Housekeeping Institute. "Since the diet is high in fiber, antioxidants and protein, it can be a healthy eating plan for some. That being said, the diet does restrict several nutritious foods and food groups like dairy, grains and legumes. It may be best to take certain principles from the Paleo diet, such as incorporating more vegetables and less added sugar into your diet, to reap long-term benefits."
The food and nutrition experts in the Good Housekeeping Institute conducted a more than three-month long meal delivery service study with over 200 real-life home cooks and industry experts across the United States. We researched and evaluated over 40 services, including traditional meal kits, affordable meal delivery services for everyday life and semi-prepared and ready-to-eat meals. Using this data, our registered dietitians chose the best Paleo meal delivery services to meet a variety of additional dietary lifestyle and preferences, from keto to low-carb to Whole30 and more. Each pick meets the requirements of the Paleo diet although some are more strict than others. All options cater to a wide variety of dietary needs and tastes.
Our top picks:
If you are looking for Paleo meals or meals that also align with the Whole30 diet, you can't go wrong with any of our picks. If these choices are above your budget, check out our cheap meal delivery services, or for a more comprehensive guide, our best meal delivery services.
We also want to acknowledge that weight loss, health and body image are complex subjects. Before embarking on any diet, we invite you gain a broader perspective by reading our exploration into the hazards of diet culture.
Advertisement – Continue Reading Below
1
Best Overall Paleo Meal Delivery Service
Trifecta
| | |
| --- | --- |
| Pricing | Starts at $99.99 for the plans and meal prep comes out to a minimum of $119.20 per delivery. Flat rate $9.99 shipping fee for all states except Alaska and Hawaii (AK and HI ship for $49.99). |
| Packaging | Boxes are made with recyclable materials, and the plastic trays are food-grade plastic and are 100% recyclable (just rinse them first). |
| Availability | Ships everywhere in the US. |
2
Best Paleo Meal Delivery Kit
Green Chef
| | |
| --- | --- |
| Pricing | Meals start from $11.99 to $13.49 per serving depending on what plan you choose, plus $9.99 for shipping. First responders, medical professionals, nurses and teachers will receive a discount of 50% off their first box and 15% off their next 51 boxes. |
| Packaging | Packaging is made from recycled, reusable and/or compostable materials including ClimaCell, a curbside recyclable insulation. |
| Availability | Available everywhere in the continental United States, except parts of Louisiana. |
3
Best Organic Paleo Meal Delivery Service
Sunbasket
| | |
| --- | --- |
| Pricing | Meals start at $9.99, depending on the meal plan selected, with free delivery on your first order. |
| Packaging | All packaging is reusable, recyclable or compostable. There are also many links to recycling resources available on the company website. |
| Availability | Available everywhere in the continental United States, except for AK, HI, MT, ND and parts of NM. |
4
Best Prepared Paleo Meal Delivery Service
Fresh N Lean
| | |
| --- | --- |
| Pricing | Meals start at approximately $10 per meal, and you can choose up to three meals a day for five or seven days. |
| Packaging | Packing is recyclable including box, food containers, padding and insulation. |
| Availability | Available everywhere in the continental United States. |
5
Best AIP Meal Delivery Service
Paleo On the Go
| | |
| --- | --- |
| Pricing | Meals are approximately $19 per serving; the smallest box starting at eight items can cost $130 or more depending on your choices. |
| Packaging | Trays are fully recyclable and the insulation in the shipping liner is made from natural corn starch, which completely dissolves in water. |
| Availability | They ship everywhere in the United States. |
6
Best Paleo Meal Delivery Service for Diet Variety
Territory
| | |
| --- | --- |
| Pricing | Most meals start at about $10. Choose from two plans, the first being subscription ordering which automatically places your order for the following week and saves you 5% on your weekly purchase. The one-time ordering option is also available. |
| Packaging | Insulated liners and meal sleeves are 100% recyclable. Meal containers are compostable. |
| Availability | Territory delivers all across the nation and is still growing. You can check on their website if they serve your particular area. |
7
Best Paleo Low-FODMAP Meal Delivery Service
Pete's Paleo
| | |
| --- | --- |
| Pricing | Five meals cost $98, 10 meals for $191, 14 meals for $251 or the family plan is $359 for five meals/four servings of each. Most orders ship free. |
| Packaging | Boxes, meal trays and natural fabric liners are recyclable. |
| Availability | Delivery is available nationwide, including Hawaii and Alaska. |
8
Best Paleo Meal Delivery Service for Beginners
Factor
| | |
| --- | --- |
| Pricing | Starts at $11 per meal plus free shipping. |
| Packaging | Delivery available in the 48 contiguous states except for Alaska and Hawaii. |
| Availability | Boxes are recyclable. Insulation is curbside recyclable. Gel packs are reusable and can be donated or can be drained into the trash. Food containers are BPA-free recyclable plastic #1. |
How we test meal delivery services
At the Good Housekeeping Institute, we test all different types of food products and services. From healthy snacks and supplements to food subscription boxes and meal delivery, our experts are committed to bringing you the best of the best when it comes to quality, performance, flavor, nutrition and more.
In our meal delivery services study, we recruited over 200 at-home testers across the nation along with our in-house experts. We evaluated over 40 different meal delivery services, ranging from traditional kits that come with pre-measured ingredients and a follow-along recipe card to fully prepared options like you'll see on this list. We tested the services over the course of three months.For the best paleo meal delivery services, we made our selections based on tester feedback and the availability of nutritious and whole foods Paleo menu options. We also looked at the breadth of menu choices, overall satisfaction, cost, recycling efforts and availability.
We tried to meet every age range, dietary preference and effort level. Some testers prefer ready-to-heat over the full cooking experience, so we included both options. We've also found that customization is important to many testers, so we took that into account. Last but not least, while taste is subjective, we chose companies that scored high points overall with testers (excluding the company that we haven't yet tested). As a result of our testing, we believe the companies spotlighted above deserve recognition for their performance in their categories. That said, this is a fast-growing segment in the food industry and we're likely to see exciting new entrants emerging in the near future. We are currently and constantly testing new offerings in this category to keep readers up-to-date.
How to select the best Paleo meal service for you
When it comes to choosing your meal kit delivery service, select the one that fits best with your lifestyle. Ultimately, a good meal delivery service should either provide tools to help you learn how to create nutritious meals and stick with it, or offer a convenient mealtime solution to keep you consistent with your health goals.
Think about if you want to spend more time in the kitchen with traditional meal kits or if you prefer to heat and eat. Cost is also an important factor, and if you need meals that cater to other preferences or restrictions like gluten-free be sure to take that into account as well.
Why trust Good Housekeeping?
As a registered dietitian, Amy Fischer has worked with thousands of patients to improve their health through whole foods and a nutritious diet. Amy believes that food is to be enjoyed whatever your diet goals may be and that ideally the focus should be on improving overall health, eating and living better.
As a dietitian and working mother, Stefani Sassos, is passionate about putting healthy meals on the table for her and her family without having to spend a ton of time in the kitchen. Meal delivery services are something that she relies on a few times a week, especially frozen options that she can keep on hand for busy weeknights when the family is in a pinch and needs dinner on the table in minutes. She stays up to date with the current meal delivery landscape and leads category testing efforts for Good Housekeeping.
Advertisement – Continue Reading Below